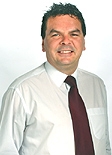 Coaching and Mentoring

Chic McSherry
Running a small business is a difficult and often lonely job. You may be working on your own or you may be working in a small team and getting frustrated that you are the one putting in the punishing hours and taking all the stress whilst your employees just treat it all as a 9-5 job.
It can be difficult to find someone to turn to for help: practical, sound, uncomplicated, professional advice that doesn't cost the earth.
Having lived through those years that is why I set up my coaching and mentoring service.
For as little as £50 per month* I can offer you:
Structured business development sessions
Structured personal development sessions
Sales and marketing consultancy
Strategy and planning assistance
Recruitment screening
Systems and procedural development
My role is as a coach and mentor and not as a non-executive Director. I am there to make sure that you can perform at your best and to give dispassionate advice on your plans and objectives as well as add some zing to your sales and marketing.
Having been in business for 22 years I know what it takes to run a small business, to grow it and to develop both the management and the people. But most of all, I know what it takes to be an entrepreneur – just like you.
Contact me for a discussion on how I can help you. My minimum involvement period would be 3 months but my guarantee is that if I can't make a difference in that time I will give you a full refund.
* prices will vary dependant on time involved and also whether the mentoring is face to face or telephone/email based. £50 buys 1 hour per month of the service.