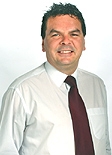 Get beyond the mentality of the USP - build lasting high value relationships with your customers.

Chic McSherry
Anyone can set up a sales training business – many people make a good living by being one step ahead in the manual over their trainees. But few people can actually provide high quality sales training based on experience . So I think it is important that I state here, at the outset, why I think I can deliver real value to your organisation both through my sales skills and as a trainer.
Another company of which I was a founder, Prosys Business Solutions Limited, was the first IT company in Scotland (and possibly in the UK) to be accredited as an Investor In People – the government standard for staff development - and was successfully audited three times until I sold it in 2006 (possibly the biggest and most complex sale of my life). Prosys were also recognised by the National Training Awards and Adult Learning bodies for their training methodologies. In addition, Prosys was the subject of numerous case studies, MBA theses, at least 2 academic papers and one chapter in a book on our training and people development programs.
For two years, I was a Director of the Scottish Campaign for Learning and was asked to sit on the Government backed steering committee on adult learning. I was also seconded onto a session of the Deering Committee on the future of Higher Education in the UK. I lecture informally at the Strathclyde University Business School, The Hunter Centre for Entrepreneurship, Glasgow Business School and Glasgow Caledonian University on sales training and professional selling skills as well as leadership and business creation.
I am a mentor in Scottish Enterprise' flagship Business Mentoring Program and have successfully mentored dozens of new-starts and high-growth businesses; helping them with finance, planning, strategy, sales, marketing and staff issues.
I have extensive experience in sales led business creation. In 2004 I developed a CRM based sales management tool called iportinstant that I sell and market throughout the UK. I opened an office in Houston, Texas to further extend the reach of the product and I now sell in the USA. I built a reseller business for a supplier from scratch in Melbourne, Australia. And I did all of these things one sale at a time.
What I can deliver is value and knowledge based real experience – not theory or notional ideas of best practise.
I get a real kick out of motivating others and seeing them achieve things that often they didn't believe they could. I know what it takes to develop High Achieving sales people and I have been a High Achieving sales person myself for over 28 years. In that time, I have sold everything from clothing to lighting systems to IT solutions to training itself.
Sales training courses, indeed almost all training courses, normally consists of a few key ideas spun out over the period of the session. The reality is that a full day of "training" could normally be condensed into a couple of hours of worthwhile ideas; at best it's a bit of a different perspective on what you already know, at worst it's a day out of the office.
This program is different: firstly it is modular so it can be structured and tailored to suit the needs of the organisation it is being delivered to. Secondly it is high on impact and low on anecdote so that trainees are not wasting time listening to tales of former glory that have little relevance to them. Finally, and most importantly, the sessions are short, focused and link together so that over time a new behaviour pattern is established with the trainee.
This has proven, in my experience, to be more effective that the one or two day blitz course which, although full of "nice-to-know" principles, does not change behaviour.
Sales training can only be counted as a success if it changes people's behaviour and delivers a measurable business improvement. That generally takes time.
In my experience, it takes around 28 days of doing things in a new way for that new way to become the accepted norm. It is therefore totally unrealistic to expect behaviour to change after a one day or two day sales training or awareness course. The diet that works is the one you stick to – not the other way round.
The structure of my sales training program takes the trainees through a step by step process which incrementally increases knowledge, awareness, enthusiasm and motivation. The sessions last between 2-3 hours and can be organised for morning, afternoon or evening. The important thing is consistency – the timetable should be set at the outset and everyone should attend. No excuses!
The ideal candidate for my sales training will be someone who is operating in a business sales environment and will be selling in a higher value, lower volume environment where products/concepts/ideas/services are intermingled in the sale.
The real core of this sales training course is about Relationship Selling – not about USPs, features and benefits. It is recommended for experienced salespeople as a refresher or a source of new ideas, to new salespeople as a solid grounding in good practise or to experienced salespeople moving into business to business/higher value sales roles.
I look forward to welcoming you on the course and to helping you Achieve More.
STOP PRESS! - For those companies who want a short, sharp course to kick-start their team I have recently developed a new half-day session. The half-day workshop designed to inject a level of motivation and enthusiasm into new starts and old hands alike. This is a fixed cost session at £500 and I can train up to 10 delegates at a time which makes it extremely cost effective indeed. Contact me now for details